I'd always wanted to be born a boy.. At least,being born a girl in India,that too Kerala,that too in a pretty much orthodox family,i'd more than once wished if only i were born a boy! (I used 'born a boy' only as a gag to those pricks who would come up with suggestions on Gender Reassignment Surgery!)..
Every time i found a boy having a nightout with friends,or a trip to Goa/Pondi or a bike tour, i whined on why the hell was i born a girl,.why couldn't my parents be one of those supporting a female infanticide(of course,that was a bit exaggerated!)..Another of those endless things i missed was a booze party,.of course not to booze myself,but to see how this liquid helped people overcome all the inhibitions,to see how people transform into someone totally strange,to some kind of a blissful existence at least for a lull!,.I'd even asked my dad once to find me a groom who would drink,and believe me when i say that he gave me one such sarcasm filled guffaw which i would never forget in a lifetime!! :D
But now,I'm highly grateful to God that i was born a girl in it's fullest sense and not as someone who can be termed neither or either!!Everytime i walk around a busy street in Blore,i get to meet the heavily built,yet deceivingly beautiful,people,who,even though they wish to be called so,are not women..People,who have not a definite gender,or a clear identity or existence.. People who are looked upon with utter aversion by every goddamn person.. People who wouldn't be hired,neither can they be self employed,thus being rendered helpless and left to choose among begging/looting for their existence.. People who wouldn't be admitted in any school or college,thus contributing themselves to the illiterate shits of India who hamper the growth of India into a super-power..
I'm highly grateful to God that i was born with a proper XX,due to which my parents are not a tad ashamed to bring me up and not abandon me in my infancy!I'm grateful to God that i have a home,and a loving family,and a proper education which didn't eventually leave me jobless,and not fend for myself when i didn't know the chromosomal difference between a male and a female!
Without an identity,they have no say in running the democratic process.. Without a vote,none of the political mavericks are interested in their issues,not that they are interested in ours..
Till date i'm not sure if LGB is a reality or fantasy like in dostana as i've never once come across one of the kind.. But not in the case of 'T'.. If i were to say,transgenders definitely need a better consideration than making them part of the LGBT resolution... Their problem is not one of dignity for their 'needs',but of existence,identity and survival..And an amendment in an article wouldn't help them be a part of our nation,.the attitude of the society of which you and i are a part,should change.. And it's high time we stop reservations based on cast,creed or religion,but devote in giving a helping hand to those who are in real need of it!
A nation remains handicapped so long as it ignores a,howsoever diminutive,part of it's citizens.. And so long as it ignores their needs,it's growth will only be a fallacy..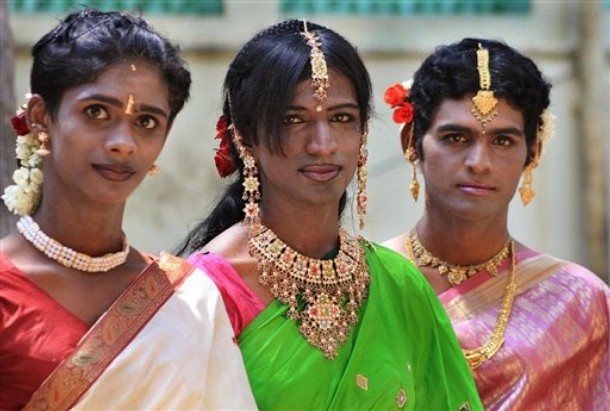 Khuda Hafiz
~Gayathri~